The Proposal
If I had it my way, my proposal to Raquel would have been high profile. I mean REALLY high profile. Like, the kind of stuff that gets you on the news or arrested for disturbing the peace. But in January 2013, after dating Raquel for many years, I began devising a plan to propose that was not "my way"—because any guy who's married will tell you, "Marriage isn't about doing things your way, it's about doing things 'Raquel's way'"!

I got the ring, which was half the battle, but how do you deliver the ring without making your private and shy future-fiance feel like she's a public spectacle? That's the other half of the battle. OK, let's see…she likes animals…she likes photography…she likes chocolate…she likes Shakespeare. So after I ruled out "showing her a photograph of a ring being carried by chocolate covered baby pig"—a "ham-let", I decided to get serious.

I called the Turtle Back Zoo—one of our favorite places to visit—to see if they would help me out. I had originally conceived of hiding in the snake cage with the ring in hand, and luring Raquel to the zoo in some way, but the zookeepers advised against. Besides, Raquel is a smart girl and she would have seen through that approach. I needed a wingman on the inside.

When it comes to wingmen, there are few better than Dan. He's the best. He's literally the best man, which is an odd thing to say about the guy standing beside the one you're actually marrying…but I digress. With Dan on board, the plan was set.

I decided to propose on my birthday for a number of reasons. First, it would detract attention away from the fact that I'm now thirty-something, and secondly, Raquel would take off from work to spend the day with me to celebrate. This meant that she'd be less likely to think a proposal was coming, ensured her availability, and also guaranteed her compliance regarding how I planned to spend my "special day".

"Let's go to the zoo!," I said. Normally, the Turtle Back Zoo is not crowded, and I was pretty sure that a Monday morning in late February would certainly ensure a low number of visitors. As soon as we walked in, we headed straight for our favorite spot: the Reptile House. As we stood in front of the large glass monitor lizard display, the zookeeper greeted us. Of course he did—that was the plan, and, naturally, since Raquel and I were the only two people there, he presumably had nothing better to do.

"Do you like this monitor lizard?"
"Of course we do!" "We come here all the time to see this guy!"
"Well, we have a female off-exhibit in the back. There's no one really around—I can bring her out here if you guys wanna see her."
"Absolutely we do!"

So the trap was set. I lured Raquel away from facing the zookeeper's door, and small-talked with her for a few moments until Dan walked in…dressed head-to-toe in a bright green reptile costume and holding a large sign that said "Will U Marry Me".
As Raquel turned around to see him, I grabbed the ring out of my coat pocket, and when she turned back around to see me, I was on one knee.

I asked.
She said yes.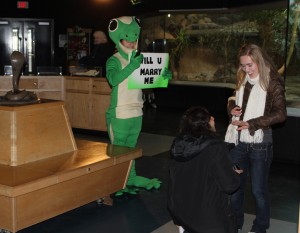 Next, I took the Dunkin Donuts coffee cup from her hand, and put the ring on her. Normally, removing a Dunkin Donuts coffee cup from Raquel would result in certain death, but this was an exception.
Some celebrating occurred in the Reptile House and then lots of texts and phone calls to our friends and family. As we stepped outside of the Reptile House, and walked toward the main gate of the zoo, a bird pooped on my head. I believe that's a sign of good luck!
Link to North Jersey news article